1991 Portamento Musik PM-45-1 7″ Single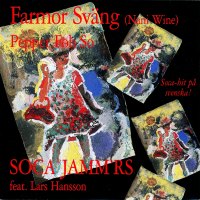 Soca Jamm'rs featuring Lars Hansson
This Swedish version of Crazy´s Nani Wine was on the Top Ten Billboard List in Trinidad & Tobago 1991!
Music Arranged by: Mats O Hansson
Produced by: Portamento Musik
Recorded and mixed at Tuff Studio, Sweden by: Måns Abrahamsson

 
Listen to samples of all the songs:
Farmor Sväng
Buy this album at major download stores
here!
These songs are bonus track in the download version of Soca Nation album.
| | | | | |
| --- | --- | --- | --- | --- |
| 1 | | Farmor Sväng [Nani Wine] | | (Edwin Ayoung / Lars Hansson) |
| 2 | | Pepper Fuh So | | (Lars Hansson) |
   
 
Lead vocal, Guitar: Lars Hansson
Keyboards, Drum machine: Mats O Hansson
Bass: Björn Hansson
Background vocals: Anna Persson, Susanne Thorén, Dan Hansson, Lars Hansson