2001 Soca Rebels SRCD1 CD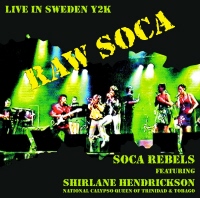 Soca Rebels and Shirlane Hendrickson met just one hour before the show and went on stage and performed RAW SOCA!
Recorded Live at Norrköping Carnival, Sweden 12th of august 2000.
Produced by: Soca Rebels
Listen to samples of all the songs:
Raw Soca Medley
Buy this album at major download stores here!
| | | | | |
| --- | --- | --- | --- | --- |
| 1 | | Intro [excerpt from Calor] | | (Anthony Bailey) |
| 2 | | Dis Is How | | (Allison Alexander) |
| 3 | | Nice Time | | (Nicholas Brancker / John King / Ian Alleyane / Phillip Forrester) |
| 4 | | One Tune Pan Man | | (Leroy Calliste) |
| 5 | | Introduction Chungsin | | (Shirlane) |
| 6 | | Chungsin | | (Shirlane H. Thomas) |
| 7 | | Introduction Black Power | | (Shirlane) |
| 8 | | Black Power | | (Shirlane H. Thomas) |
| 9 | | Introduction Y2K Fever | | (Shirlane) |
| 10 | | Y2K Fever | | (Shirlane H. Thomas) |
| 11 | | Hot Hot Hot | | (Alphonsus Cassell) |
| 12 | | Movin' | | (Nigel Lewis) |
Lead vocal, Guitar, Steelpans: Lars Hansson
Background vocals: Anna Bernmalm, Lena Larsson
Keyboards: Mats Hansson
Bass: Björn Hansson
Drums, Percussion programming: Anders Howerdal
Trumpet: Patrik Janson
Trombone: Kristian Gustafsson

Lead vocal, tracks 5-12:  Shirlane Hendrickson
Additional Percussion, tracks 5-12:  Anslem Serrette