Soca Rebels – The first true Swedish Soca band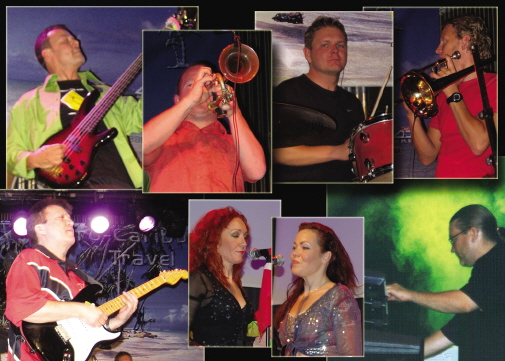 Convinced that there would be a demand also in the high north, for the irresistible groove and streetwise spirit which is the hallmark of SOCA, the first true Swedish soca band was formed in 1990.
Guitarist, pannist and singer Lars Hansson formed the band in 1990 together with his brother Mats Hansson who plays the keyboards and Björn Hansson who plays the bass. All three composes and arranges for the band. They have several times visited Trinidad to learn about the music and to establish contacts. Besides Lars, Mats and Björn, Soca Rebels comprises Annika Lidhammar and Yvette Palm on backing vocals, Klas Nilsson on trumpet, Kristian Gustafsson on trombone and Anders Howerdal on drums. Soca Rebels plays a mix of original material and great soca masters like Crazy, Baron, Kitchener, Shadow etc. and frequently plays on carnivals, fêtes, clubs and parties.
Some highlights through the years:
1991 first single released with a Swedish version of Crazy's Nani Wine. The record was on the billboard list in Trinidad!
The first live gig for the band was at the Gothenburg Carnival.
1992 Soca Rebels backed calypsonian Crazy during his Swedish Tour!
1994 the second record released in Trinidad with original material. Plenty airplay on Trinidad's radiostations
1995 the band played at the World Championships in Athletics in Gothenburg and at the Stockholm Water Festival as one of the warm-up events for Arrow.
1996 the band visited the carnival in Port of Spain, and came back loaded with inspiration. The major gigs were at Stockholm Water Festival and the Norrköping Carnival. Soca Rebels website was launched April, 17 1996 and was among the first ever websites about soca music and no other band had a website at that time.
1997 the major gig was as the closing event of the Gränna Andreé Centennial Festival. Soca Rebels ended the concert playing on a truck with the audience following behind!
1998 Soca Rebels performs live and direct on National TV in one of Sweden most popular TV shows on a Saturday prime time with 1,380,000 viewers!
2000 The band performed at Norrköpings Carnival in Sweden with guest artist Shirlane Hendrickson from Trinidad. Soca Rebels met Shirlane just one hour before the concert and went on stage together to "mash up de place"! The concert was released on the CD "Raw Soca"
2001 Soca Rebels again teams up with four times crowned National Calypso Queen of Trinidad & Tobago Shirlane Hendrickson at the festival at Norrköping Carnival
2003 New single released with a remix of Crazy's Oh Baby! Crazy performs with Soca Rebels in Stockholm. Successful concert, which gave the idea that Crazy and Soca Rebels will record a song together for Crazy's next album
2004 Lars Hansson performs with Crazy in Trinidad on the launching of Crazy's album "Trinidad Crazy".
The album contains "Tahiti Baby", produced and arranged by Soca Rebels! Also a version called "Sweeter Than Honey" with Soca Rebels is on the album
2005 Soca Rebels produces the song Rebel Jam (One For De Road) for Crazy's album "Sweet Madness".
The new group in Trinidad House Of Rapsoul, have two songs produced by Soca Rebels on their debut single The Awakening Vol. 1
Soca Rebels collaborates with young producer Sebastian Legall from Barbados with the song Soca Flight on the
album "It Is Crop Over"
Lars & Sarah Hansson are in Arizona recording with the band Caribbean Cruisers and Crazy. A cover of Soca Rebels Dis Is Trouble is made together with a new song Doctor's Advice for Crazy's album "The Maddest".
Soca Rebels and Sarah Hansson are producing the song Never Knew which is the debut in Sarah's style called CariPop.
The song is promo released for radiostations in Trinidad & Tobago.
Crazy and Soca Rebels performs in Stockholm.
Soca Rebels produces the song Accountable for Crazy's album "The Maddest".
2006 Oh Baby is released on the Hometown Music album "Soca Cross Over Vol. 6".
A new collaboration with Sebastian Legall from Barbados with the song Hold Me Tight on the
album "It Is Crop Over Vol. 2" together with a new recording of Soca Flight (Airport Version).
Soca Flight (Airport Version) also appears on the Hometown Music release "Calypsoca Fiesta Vol. 2"
together with Sarah's Never Knew, which reach #4 in a Billboard chart in New York! Soca Rebels releases a tribute song
Warriors and Rebels for Trinidad & Tobago Football Team "Soca Warriors" for the 2006 Fifa World Cup!
Rapso Rebel and Sis Anna of House of Rapsoul gets their song Hope produced by Soca Rebels for their 2007 album Jah Love, The Awakening no. 3.
Crazy's song Girls Gone Wild is produced for the 2007 album Cold Sweat.
2007 The release of Soca Rebels album On De Go. First studio album since 1994! The album contains 9 original songs plus 2 extra songs. The album is also available on iTunes and other major download stores in collaboration with Faluma.
A new recording of Crazy's song Doctor's Advice is made and produced by Soca Rebels for Crazy's album Unstoppable. The song is presented as Dr. Advice (Tribute to Black Prince).
2008 Lars Hansson writes the song Body Talk for Crazy which appears on the album Crazylicious. Soca Rebels also produces the songs Let's Have A Party and a soca version of the Beatles song Ob-La-Di.
Live gigs with Rapso Rebel with the constellation Big Lime.
2009 A version of the song Let's Have A Party appears on a bootleg compilation called Xxxclusive Soca Singles Vol. 24. Soca Rebels produces the song You're My # 1 for Crazy's 2010 album Evergreen. The release of the album Rebel Jam featuring Crazy.
Big Lime featuring Rapso Rebel live for the Gothenburg Cultural Event.
2010 The albums Raw Soca and the 1994 LP Soca Nation is released on iTunes and other major download stores. The song Time 2 Jam is included in the compilation Laduma for the 2010 Fifa World Cup in South Africa.
2012 Soca Rebels 20th Anniversary Concert in Gothenburg with guest artist Crazy (Trinidad & Tobago), Rapso Rebel (Trinidad/Sweden) and Sarah Hansson. Opening act was Big Lime and DJ by Soca Revolution Soundsystem.
2017 Soca Rebels proudly presents its best brew, the album Babash, mixing ingredients from three continents into a unique style of calypso and soca. The Swedish band Soca Rebels collaborates with long time friends in music. From Trinidad & Tobago it's Crazy – the loveable lunatic and rapso pioneer Rapso Rebel. From Uruguay we have Ruben Behak – a trini lover with cuban roots, and from USA the drummer and steelpan player Phil Hawkins.
2019 Soca Rebels performs at Gothenburg Culture Festival.