2003 Soca Rebels SRCD2 CD Single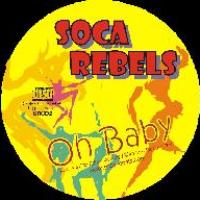 Soca Rebels, the Swedish connection to Trinidad & Tobago, is here with a dazzling modern dancehall soca remake of Soca Master Crazy's 1992 hit Ahwoh Beti – Oh Baby. This new version has a slow power beat that grows into dynamic dancehall calypso.
Oh Baby is targeted at the dancefloors!
Recorded In Soca Rebels Studio Gothenburg, Sweden 2003
Arranged and Produced by: Björn, Mats and Lars of Soca Rebels
| | | | | |
| --- | --- | --- | --- | --- |
| 1 | | Oh Baby (4:35) | | (Edwin Ayoung / Winsford Devine) |
Lead vocal, Guitars: Lars Hansson
Bass, Wha wha guitar, Drums & Percussion programming: Björn Hansson
Background vocals: Mia Bergström, Anna Thorén
Trumpet: Patrik Janson
Trombone: Kristian Gustafsson