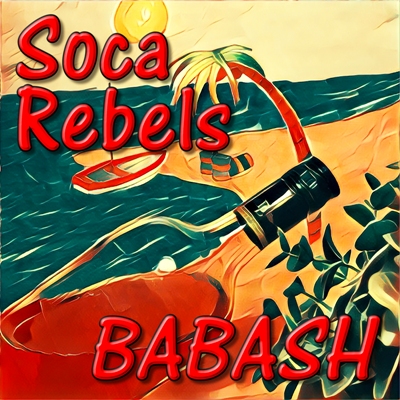 Soca Rebels proudly presents its best brew, Babash, mixing ingredients from three continents into a unique style of calypso and soca.
The Swedish band Soca Rebels collaborates with long time friends in music. From Trinidad & Tobago it's Crazy – the loveable lunatic and rapso pioneer Rapso Rebel. From Uruguay we have Ruben Behak – a trini lover with cuban roots, and from USA the drummer and steelpan player Phil Hawkins.
All songs are recorded in Trinidad & Tobago, Uruguay, USA and Sweden.
All songs arranged and produced by: Björn Hansson / Mats O Hansson / Lars Hansson
Cover Art by Mats O Hansson
Listen to samples of all the songs:
| | | | | |
| --- | --- | --- | --- | --- |
| 1 | | The Big Idea (feat. Crazy & Phil Hawkins) | | (Phil Hawkins / Lars Hansson) |
| 2 | | Hope (feat. Rapso Rebel) | | (Everard Romany) |
| 3 | | Maria Sol (feat. Ruben Behak) | | (Ruben Behak) |
| 4 | | You're My Number One (feat. Crazy) | | (Edwin Ayoung) |
| 5 | | Wanna Be (feat. Rapso Rebel) | | (Everard Romany) |
| 6 | | La Casa Nueva (feat. Ruben Behak) | | (Ruben Behak) |
| 7 | | Ob-La-Di, Ob-La-Da (feat. Crazy) | | (Lennon-McCartney) |
| 8 | | Aum Shanti (feat. Rapso Rebel) | | (Everard Romany) |
| 9 | | La Parranda [Parang Version] (feat. Ruben Behak) | | (Lars Hansson / Björn Hansson / Ruben Behak) |
| 10 | | Let's Have A Party [Reggae Mix] (feat. Crazy) | | (Edwin Ayoung / Lewis Rowans) |
Crazy (Edwin Ayoung): Lead vocal (1,4,7,10)
Rapso Rebel (Everard Romany): Lead vocal (2,5,8)
Ruben Behak: Lead vocal (3,6,9) / Congas (3)
Phil Hawkins: Steelpan solo (1) / Drums (1) / Percussion (1)
Sarah Hansson: Backing vocals (2,4,5,8,9)
Annika Lidhammar: Backing vocals (1,4,7,10)
Amanda Lozano Johansson: Backing vocals (2)
Yvette Palm: Backing vocals (1)
Nicolas Behak: Backing vocals (3)
Javier Behak: Backing vocals (3)
Klas Nilsson: Trumpet (2,9)
Kristian Hvitfeldt: Trombone (2)
Lars Hansson: Electric guitars / Acoustic guitar (6,9) / Cuatro (6,9) / Electric ukelele (6) / Steelpans (1,3,5) / Cajon Bongos (6) / Maracas (9) / Keyboard (10) / Backing vocals (3,6,8)
Mats O Hansson: Keyboards (1,2,4,5,7,8,10) / Synth Bass (7) / Keyboard Brass (1) / Accordion (6) / Melodica (6) / Drums & Percussion programming (2,4,5,6,7,8) / Backing vocals (8)
Björn Hansson: Electric bass / Fretless Bass (4) / Acoustic Bass (9) / Bass solo (7) / Keyboard (4) / Guijada de Burro (6) / Cajon (9) / Tambourine (9) / Drums & Percussion programming (3,10) / Backing vocals (8)