1993 Soca Rebels SR-33-1 LP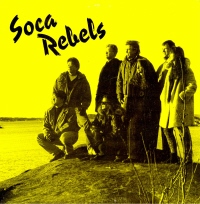 This LP was manufactured in Barbados and released in Trinidad & Tobago for Carnival 1994!
Distribution by Crosby´s Music Center, Trinidad. The songs got good airplay in Trinidad!
Music Arranged by:  Mats O Hansson
Produced by:  Soca Rebels
Recorded and mixed at Jam Lab, Sweden by:  Olav Fossheim, Lars McLachlan
Listen to samples of all the songs:
Soca Nation
Buy this album at major download stores
here!
This download album contains bonus tracks from the 1991 Single Farmor Sväng – Nani Wine in swedish.
| | | | | |
| --- | --- | --- | --- | --- |
| 1 | | Soca Nation | | (Lars Hansson) |
| 2 | | Party Hearty | | (Anders Howerdal / Lars Hansson) |
| 3 | | Dis Is Trouble | | (Lars Hansson) |
| 4 | | Soca Nation [Instr] | | (Lars Hansson) |
Lead vocal, Guitars, Steelpan:  Lars Hansson
Background vocals:  Anna Bernmalm, Lotte Wieslander, Cia Andersson
Keyboards:  Mats O Hansson
Bass:  Björn Hansson
Percussion:  Mikael Uneman
Drums, Percussion:  Anders Howerdal
Trumpet:  Salomon Helperin
Trombone:  Peter "Noos" Johansson
Alto sax (1,2,4):  Johan Borgström
Alto sax (3):  Torbjörn Stenson
REVIEW –
From: Mika Jansson
Newsgroups: alt.music.carnival
Subject: Soca Rebels Record Review
Date: Thu, 10 Apr 1997 02:20:38 -0700
SOCA REBELS – Soca Nation (1993 Soca rebels/Jam Lab Studios)
————————————————————-
This LP with it's 3 songs and one version represents by far the most
authentic Soca sound that I've heard from outside the Caribbean!! The
band can be proud of this LP any day – Lars Hansson, the lead vocalist,
has a voice not far from that of Crazy, and the band keeps the sound well
together with nice percussion and beat. I would have had a HARD TIME
guessing that they are NOT Trini – so good is the sound. Full marks to
the boys (and girls!) for also making their own songs – not just going
for cover versions (which often lack the energy of the originals…).
"Dis Is Trouble" and "Soca Nation" stand out as the major songs IMHO from
this LP…"Dis Is Trouble" borrows some from Crazy's "Nani Wine" in
melody, but nothing as outrageous as what we've seen in terms of lyrics-
or melody-copycattin', say, this year. The sounds are a bit oldish to my
ears now, but then again – the record WAS made quite in 1993.
Is GOOD to hear such music coming out of Scandinavia – I hope the
Soca-scene in Sweden and other Nordic countries would develop, and with a
band like Soca Rebels, I see no reason why it would not do so. Big
respects to Lars, Mats and Bjorn Hansson, Anders Howerdal and other
members of the band. I look forward to the new CD that I have heard is on
it's way…