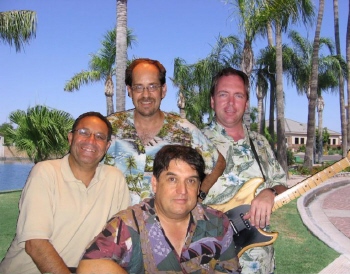 Caribbean Cruisers of Arizona has been around since 1990, playing Calypso, Junkanoo, Reggae/Ska and Latin in the Phoenix circuit. Regarded as Arizona's best Calypso and Reggae band, the group explodes with a musical celebration of Islands, Trinidadian, Bahamian and Jamaican music of various styles.
Richard Carbajal on lead vocal, lead guitar and drum programming formed the band in 1990. Caribbean Cruisers also comprises Mike Riggert-Harris on steelpan and keyboard, Ray Lucero on bass and
Don Ridenour on guitar.
Their first album "Maiden Voyage" came 2001 and they are now working on a next album. The new album will include guest performances by Crazy, Nehemiah Hield, former lead singer of
Baha Men and Lars Hansson of Soca Rebels.
Richard Carbajal came across Soca Rebels website some years ago and the fact, that a band from Arizona and a band from Sweden was so much involved in Caribbean music, started their friendship. In 2005 Lars Hansson visited Richard Carbajal in Arizona for some recording sessions. Caribbean Cruisers recorded a remake of Lars Hansson's song "Dis Is Trouble" with Lars on vocal.
Crazy joined up in Arizona and a new calypso called "Doctor's Advice" was recorded for Crazy's 2006 album. A remake of "Chief Crazy" with Caribbean Cruisers and Crazy plus a joint venture between Richard Carbajal, Lars Hansson and Crazy on the song "Spring Garden" was also a result of the recording sessions.
"Dis Is Trouble", "Chief Crazy", "Doctor's Advice" and "Spring Garden" will be released on Caribbean Cruisers forthcoming album.
Chief Crazy was released on Crazy's 2009 album Crazylicious.
Photo links:
Recording Sessions In Arizona
CD links:
Doctor's Advice, The Maddest CD 2006
Chief Crazy, Crazylicious CD 2009
Video link:
Spring Garden performed by Caribbean Cruisers, Lars Hansson (Soca Rebels) and Crazy 2005
Recording credits for Arizona recordings 2005
Dis Is Trouble
Lars Hansson: Lead vocal
Richard Carbajal: Lead & Rhythm Guitar, Drum programming
Mike Riggert-Harris: Keyboard Brass
Don Ridenour: Keyboards, Guitar
Ray Lucero: Bass
Janet Carbajal: Backing vocal
Sarah Hansson: Backing vocal
Spring Garden
Crazy: Lead vocal
Richard Carbajal: Lead vocal, Backing vocal, Guitar, Drum programming
Lars Hansson: Lead vocal, Backing vocal, Guitars, Double Tenor Pans
Don Ridenour: Guitar
Mike Riggert-Harris: Keyboards, Tenor Pan
Ray Lucero: Bass
Doctor's Advice
Crazy: Lead vocal, Backing vocal
Sarah Hansson: Backing vocal
Richard Carbajal: El & Ac Guitar, Drum programming
Lars Hansson: El Guitars, Keyboards
Mike Riggert-Harris: Keyboard, Tenor Pan
Ray Lucero: Bass
Chief Crazy
Crazy: Lead vocal
Richard Carbajal: Backing vocal, Drum programming
Don Ridenour: Guitar
Mike Riggert-Harris: Keyboards
Ray Lucero: Bass
Hi Dema Choir: Crazy, Mike Riggert-Harris, Ray Lucero, Lars Hansson, Tommy Doo
Caribbean Cruisers Websites:
www.thecaribbeancruisers.com
www.myspace.com/thecaribbeancruisers
www.youtube.com/caribbeancruisers
Caribbean Cruisers on Facebook
Contact Information:
Richard Carbajal
email: strat@wans.net