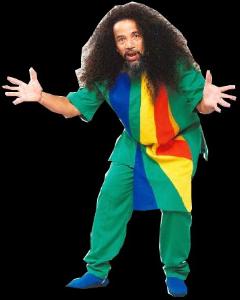 Crazy, the calypsonian from Trinidad & Tobago, is among the top performers of Calypso and Soca music.
A performance of Crazy is a wild, happy and crazy experience and ranges from social commentary calypso to wild party soca.
Crazy is the first artist to sing a Parang Soca in 1978 and is also among the first to sing a crossover Chutney Soca with Nani Wine, a big hit in North America and the West Indies 1989.
Being on the calypso/soca stage since 1972 Crazy is the absolute choice for all soca party!
The first meeting with Crazy's music was when Lars Hansson was in Trinidad for the carnival in 1989. Nani Wine was the song that was playing all the time during the festivities.
The atmosphere of the carnival in Trinidad and the irresistible beat of the soca music gave Lars the idea to form a soca band in Sweden. To reach the swedish audience Lars translated the song that was his favourite from the carnival to swedish. Nani Wine became Farmor Sväng in swedish and Lars corresponded with Crazy to get the permission to record Nani Wine in swedish.
Lars and Mats Hansson was in Trinidad in 1991 and released the song which hit the top ten billboard in the end of 1991. Crazy and Lars met and plans for a tour in Sweden was on the go.
In 1992 Soca Rebels and Crazy made a 4 days tour in Sweden playing in Karlstad, Norrköping, Stockholm and Göteborg.
Since 1999 Lars has run Crazy's Official Website on the internet.
2003 was the year when Crazy came back to Sweden and performed with Soca Rebels in Stockholm at Nalen. During this visit Crazy and Soca Rebels started a collaboration also in the studio. Lars, Mats and Björn Hansson arranged Crazy's song Tahiti Baby for his 2004 album Trinidad Crazy.
Crazy and Lars Hansson performed in Trinidad 2004 at the release ot the album. Crazy performed Wey De Cat and Lars performed Sweeter Than Honey, Soca Rebels version of Tahiti Baby.
For Crazy's 2005 album Sweet Madness, Soca Rebels again produced a song. This time a remake of Crazy's 1973 song One For De Road, now called Rebel Jam.
In the summer 2005 Crazy, Lars and Sarah Hansson of Soca Rebels teamed up with Caribbean Cruisers in Arizona. The result was a recording of Crazy's calypso Doctor's Advice that appears on the album De Maddest.
2005 was also the year Crazy & Soca Rebels returned to Stockholm for a gig at Kolingsborg
In the studio they produced and recorded the song Accountable for Crazy's 2006 album De Maddest.
2007 album Cold Sweat contains the song Girls Gone Wild, arranged and produced by Soca Rebels.
On the 2008 album Unstoppable Soca Rebels arrange and produce the song Dr. Advice (Tribute To Black Prince).
Crazylicious, Crazy's 2009 album contains three arranged and produced songs by Soca Rebels: Let's Have A Party, a modern soca arrangement of The Beatles Ob-La-Di Ob-La-Da and Lars Hansson's composition Body Talk.
2009 Soca Rebels release Rebel Jam featuring Crazy with all the songs produced for Crazy on one album, remixed and with additional versions of Let's Have A Party (Soca Mix) and Body Talk (European Mix)
2010 Crazy's album Evergreen contains the song You're My #1, arranged and produced by Soca Rebels.
Photo links:
Live with Crazy 2005
CD Launching In Trinidad 2004
Live With Crazy 2003 Part 1
Live With Crazy 2003 Part 2
Live with Crazy 1992
CD links:
You're My #1, Evergreen CD 2010
10 track album by Soca Rebels featuring Crazy, Rebel Jam CD 2009
Let's Have A Party – Body Talk – Ob-La-Di, Crazylicious CD 2009
Dr. Advice (Tribute To Black Prince), Unstoppable CD 2008
Girls Gone Wild, Cold Sweat CD 2007
Accountable, De Maddest CD 2006
Rebel Jam, Sweet Madness CD 2005
Tahiti Baby, Trinidad Crazy CD 2004
Newspaper links:
Trinidad Guardian 7th June 2003: Crowd Goes Crazy in Sweden
Trinidad Guardian 15th June 2003: Crazy cashes in on Sweden
Sunday Punch 22nd June 2003: A Crazy Night
Setlist for Crazy 2005 Sweden Concert
1. Soca Flight
2. Never Knew
3. Dis Is Trouble
4. De Party Now Start
5. Dis Is How
6. Doctor's Advice
7. Crazy Medley:Soucouyant / Ah Coming / Carolyn / Nani Wine
8. Paul (Yer Mudder Come)
9. Cash It
10. This Is Madness
Setlist for Crazy 2003 Sweden Concert
1. All Aboard
2. Wet Me
3. De Party Now Start
4. Dis Is How
5. In Time To Come
6. Nani Wine
7. Maruga Gahl
8. Rosie
9. Take Me
10. Cash It
Setlist for Crazy 1992 Sweden Tour
1. Ahwoh Beti – Oh Baby
2. Uncle Crazy
3. Ah Coming
4. Muchacha
5. Rock Steady
6. Somebody
7. Soucouyant
8. Nani WIne / Farmor Sväng
9. De Party Now Start
10. Penelope (Take Ah Man)
11. Carolyne
12. Don't Try That
Crazy's Official Websites:
www.calypsocrazy.com
www.myspace.com/calypsocrazy
www.youtube.com/edwinayoung